For villain counterpart, see ALERT: Villains Wanted!.
ALERT: Calling all Heroes!
is the first
alert
hero players have access to, and unlike other alerts, it is a solo
mission
.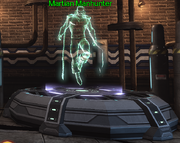 Martian Manhunter requires your assistance on a global Justice League Alert - Report to the Metropolis Little Bohemia Police Station immediately.
Objectives
Edit
"Greetings. I am the Martian Manhunter and I oversee the Watchtower's global efforts. You are ready to join us in the Alerts occurring across the globe. Proceed to the safehouse indicated and speak to my mental projection there." — Martian Manhunter
Reported to Alert Recruiter (627 xp)
When the player talks to the Martian Manhunter, the alert turns into Area 51.
The player does not necessarily have to use the Police Station in Metropolis - other ones, such as the East End Police Station, also work.
Ad blocker interference detected!
Wikia is a free-to-use site that makes money from advertising. We have a modified experience for viewers using ad blockers

Wikia is not accessible if you've made further modifications. Remove the custom ad blocker rule(s) and the page will load as expected.