Aerial Defender is an Armor Style Set.
It can be found in Fortress of Solitude: Power Core and Fortress of Solitude: Chasm.
The set has item level 62 and is only available to Healers and Controllers.
Alien Tech (Controller)

Pieces
Obtainment
Alien Tech (Healer)

Pieces
Obtainment

[[]] (head)
[[]] (shoulders)
[[]] (chest)
[[]] (legs)
[[]] (feet)
[[]] (hands)
[[]] (waist)
[[]] (back)
Color-Schemes
Edit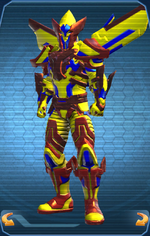 The Aerial Defender's overall color-scheme consists of three colors that can be chosen by the Player in the Style Window. Specific sections of the style's pieces can also be allocated a more specific colour by the Player.
Emblems do not appear on this style.