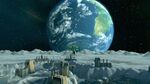 Alerts are missions in DC Universe Online in which 4 players are joined together in a group and placed in an instance, the only exception being the very first alert players have access to, ALERT: Calling all Heroes!, and its villain counterpart, ALERT: Villains Wanted!, which are solo missions.
The group works together to complete a series of missions within the instance. Each Alert has several smaller bosses leading up to a main boss at the end.
In order to enter a alert, players must queue up using the On Duty Menu (Default PC Key 'Y'). They will then be placed in a queue that searches for other players who wish to do the same alert, and be prompted to enter the instance.
Players must reach a certain level to gain access to a certain alert and additional Combat Rating or DLC requirements must be met.
Tier 1 Hard Alerts are available to at level 30.
Tier 2 Hard Alerts require a Combat Rating of 43 to enter.
Tier 3 Hard Alerts require a Combat Rating of 53 to enter.
Tier 4 Hard Alerts require a Combat Rating of 70 to enter.
Tier 5 Hard Alerts require a Combat Rating of 86 to enter.
Tier 6 Hard Alerts require a Combat Rating of 100 to enter.
Dominance Requirement
Edit
The Dominance Requirement for an Alert is the minimum amount of Dominance required for player Crowd Control effects to affect normal Alert opponents. Tanks and Controllers should meet this minimum Dominance requirement to be effective in an Alert.
Tier 1 Alerts: 100 Dominance
Smallville: 200 Dominance
Tier 2 Alerts: 325 Dominance
Tier 3 Alerts: 400 Dominance
Tier 4 Alerts: 550 Dominance
Tier 5 Alerts: 775 Dominance
Tier 6 Alerts: 1500 Dominance
Upon completing an alert, players will receive Marks of Triumph, in addition to any loot the boss happens to drop. Additionally, if the alert was marked as Daily by a star, players will receive extra Marks. A player gets a weekly Award Box when he finishes an alert for the first time of the week.
Normal Modes
Edit
| Alert | Bosses | Availability | Rewards |
| --- | --- | --- | --- |
| | | Level 10 | Experience Points |
| | | Level 23 | Experience Points |
| | | Level 13 | Experience Points |
| | | Level 19 | Experience Points |
| | | Level 15 | Experience Points |
Hard Modes Tier 1
Edit
Hard Modes Tier 2
Edit
Hard Mode Tier 3
Edit
Tier 4 Alerts
Edit
Tier 5 Alerts
Edit
Tier 6 Alerts
Edit
Special Alerts
Edit