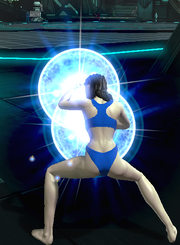 Amazonium Deflection is an Iconic power that becomes available at Level 10.
Description
Edit
Deflect incoming attacks, protecting yourself from damage. Some damage will be directed back at you attackers, with a chance to stun them.
Block
Shield
Cooldown: 30s
Power Cost: 300
Based on Wonder Woman.
Amazonium is an alloy that can only be found on Themyscira. It is used in combination with other alloys to create extremely strong and lightweight armor; such as Amazonian Gauntlets.
Ad blocker interference detected!
Wikia is a free-to-use site that makes money from advertising. We have a modified experience for viewers using ad blockers

Wikia is not accessible if you've made further modifications. Remove the custom ad blocker rule(s) and the page will load as expected.