The Geroldy Amusement Mile was built and funded by Carlo Geroldy in the early 20th century during Gotham's industrial boom. Following the removal of many of the city's factories, the Mile itself fell into bankruptcy and shutdown; turning into a decrepit amusement park perched on the coastline of Gotham City.
Currently under the ownership of the Joker, the park's Fun House is a virtual labyrinth of circus rooms and corridors all decorated to the Joker's taste.
Involvement
Edit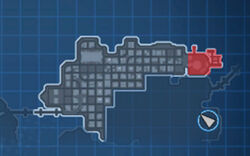 Locations
Edit
Inhabitants
Edit
External Links
Edit
Ad blocker interference detected!
Wikia is a free-to-use site that makes money from advertising. We have a modified experience for viewers using ad blockers

Wikia is not accessible if you've made further modifications. Remove the custom ad blocker rule(s) and the page will load as expected.