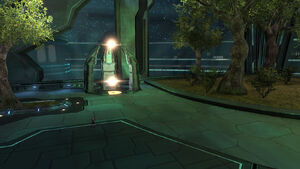 The Aquacultural Area (located in the Watchtower, ground-floor South-west corner) contains various plant species and flora on board the Watchtower satellite. Primarily intended for the purpose of air purification, the Aquacultural Area also serves as an ideal place to relax and reflect on recent events.
STAR Labs has seen to the installation of some of their "Recallobrating Attributes Devices" into the area if a hero would like to rethink their current abilities.
Inhabitants
Edit
Resources
Edit
Ad blocker interference detected!
Wikia is a free-to-use site that makes money from advertising. We have a modified experience for viewers using ad blockers

Wikia is not accessible if you've made further modifications. Remove the custom ad blocker rule(s) and the page will load as expected.