Area 51 (briefing)
Talk

0
4,077pages on
this wiki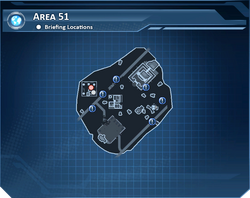 Briefing: Area 51
is a collection of
Briefings
that can be found scattered across the
Area 51
Alert Zone
, accessible from a player's
On Duty Menu
upon achieving level 9.
Synopsis
Edit
"Brainiac has invaded Cadmus's base at Area 51!"
A Cadmus-run military base at Area 51, in the Nevada desert, has come under attack by Brainiac's forces. Contracted under both the U.S. government and Lexcorp to conduct kryptonite-based research at this location, Cadmus is exploring the mineral's effects on native earth life, as well as developing a process of producing it artificially. Cadmus' stockpile of the rare mineral would represent a significant threat if it were to fall into Brainiac's hands.
Briefings
Edit
Part 1: Lois Lane
Edit
Part 2: Amanda Waller
Edit
Part 3: Amanda Waller
Edit
Part 4: Jack Ryder
Edit
Part 5: Lex Luthor
Edit
Part 6: Superman
Edit
On completion
Edit
Upon completion of this briefing collection players receive a message from Amanda Waller, accessible from any Mail Terminal.
Mail message
Edit
From: [[Amanda Waller]]
Subject: Briefing: Area 51
""Coded Transmission Follows: This is Amanda Waller with Checkmate. Your work in the field is to be commended. I don't care what kind of ethos you follow, I need assets like you out there making sure things get done. Watch your back. Waller out.""
Attachment: [[Boss of the Plains]]