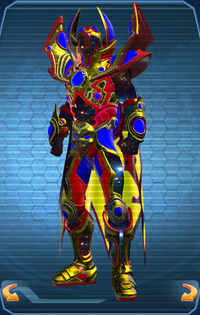 Astral Alloy is an Armor Style Set only available in The Battle for Earth DLC.
Designed around the appearance of the Avatar of Magic, this style drops from Brainiac Sub-Avatars, Bounders and Wing Armours in Gotham City's Old Gotham District.
Must have a Combat Rating of at least 52 to loot from Sub Avatars. 
Astral Alloy (Healer)

Pieces
Drops
Stats
Astral Alloy (Tank)

Pieces
Drops
Stats
Astral Alloy (Controller)

Pieces
Drops
Stats
Astral Alloy (Damage)

Pieces
Drops
Stats