Avatar Bombardier
Talk

3
9,305pages on
this wiki
The Avatar Bombardier is an Iconic Battle Suit Style set for Heroes and Villains.
Consisting of eight pieces, the set is themed after
Brainiac
and is a specialized Tier 1 PvP (
Player versus Player
) set available from
Requisitions-T2H
in the
Hall of Heroes
between the
Magic
and
Meta Wings
of the
JLA Watchtower
and from
Requisitions-T2V
in the
Power Core
of the
Hall of Doom
.  The variant style helm, for the feat, is available at PvP vendors in either the Magic, Meta or Tech wings.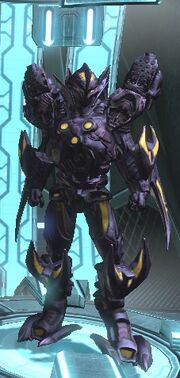 Zero SetsEdit
Furious Avatar Bombardier (Damage)
Pieces
Stats
Sockets



Fortified Avatar Bombardier (Tank)
Pieces
Stats
Sockets



Rejuvenating Avatar Bombardier (Healer)
Pieces
Stats
Sockets



Imperious Avatar Bombardier (Controller)
Pieces
Stats
Sockets



Color-Schemes
Edit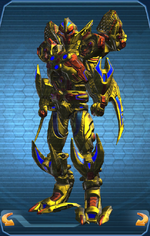 The Avatar Bombardier's overall color-scheme consists of three colors that can be chosen by the Player in the Style Window. Specific sections of the style's pieces can also be allocated a more specific colour by the Player.
Emblems do not appear while wearing this style.

Collecting the the variant Head style unlocks the feat Heads, You Win (10 points).
The Style of this armor seems to draw inspiration from Brainiac's Avatar of Tech