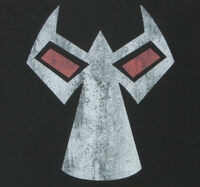 Bane's Streetgang is the name of a group of thugs that work for Bane in Gotham City.
Each one of Bane's henchmen has been supplied with Venom with some new recruits having to earn the right to obtain Venom.
Bane's operation involves smuggling a new type of Venom into Gotham City using Cape Carmine Lighthouse as a base. Both Batman and Joker seek to put an end to Bane's smuggling operation.
Involvement
Edit
In the hero campaign, Batman wants Bane's smuggling operations put to a halt and calls in the Justice League of America recruits to fight Bane's street gang.
| | | |
| --- | --- | --- |
| Iconics/Bosses | Mobs | Vendors/Taskmasters |
Equipment
Edit
Some of the members of Bane's Streetgang periodically exclaim "THE JUICE IS LOOSE!", although contextualized to refer to the liquid drug Venom, the catchphrase is also a reference to a sports documentary made in 1974 about O. J. Simpson (sometimes refered to as "The Juice") called O. J. Simpson: Juice on the Loose.
Coldcut used to be a member of Bane's Streetgang until he turned turncoat to work for Mister Freeze.
Ad blocker interference detected!
Wikia is a free-to-use site that makes money from advertising. We have a modified experience for viewers using ad blockers

Wikia is not accessible if you've made further modifications. Remove the custom ad blocker rule(s) and the page will load as expected.