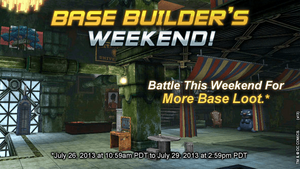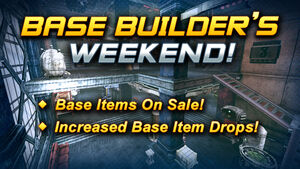 Base Builder's Weekend is a special promotional game mode where for a period of time double the base items drop from defeating enemies.
Past Weekends
Edit
April 19 - April 23, 2013
July 26 - July 29, 2013
November 27 - December 1, 2014
July 18 - July 21, 2015
To get the most out of a base builder's weekend, it is usually a good idea to start activities with many enemies, e.g. the Feat: Is This The End, Or Was It The Beginning? where you need to defeat 5000 Paradox Reapers in Central City.
Ad blocker interference detected!
Wikia is a free-to-use site that makes money from advertising. We have a modified experience for viewers using ad blockers

Wikia is not accessible if you've made further modifications. Remove the custom ad blocker rule(s) and the page will load as expected.