Batwoman
Talk

0
7,249pages on
this wiki
Batwoman (Katherine Kane)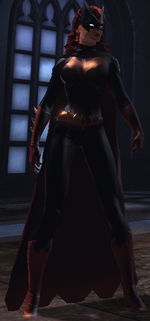 ---
---
Abilities
---
Background
Edit
Katherine "Kate" Kane and her twin sister, Elizabeth "Beth" Kane, were born into the wealthy Kane family in Gotham city. On their twelfth birthday, Kate and Beth were taken out to a restaurant by their mother where they were kidnapped and held for ransom. Their father, Jake Kane; a military colonel, launched a rescue attempt but only Kate survived the conflict; her mother and sister killed by the kidnappers.
Years later Kate attended the United States Military Academy only to be expelled, despite her excellent grades, due to her sexual orientation. Returning to Gotham she began to suffer depression over having no life direction, however a chance mugging-attempt resulted in her meeting Batman saw her inspired and she attempts to fight crime using her father's military equipment in secret.
Discovered by and further assisted by her father, Kate is sent on a two year training regime after which she returns to Gotham to find a Batsuit and secret bunker ready for her use.
Combat Statistics
Edit
Involvement
Edit
Batwoman (Katherine Kane) first appeared in 52 #7 (July 2006)
Batwoman is voiced by Christina J. Moore
Kate Kane lives in the R.H. Kane Building.
Revealed during an encounter with Scarecrow, Batwoman seems to be afraid of lightning and thunder.
Kate and Renee Montoya were once lovers back when Kate was just a socialite and Montoya was an officer in the GCPD.
Kate was dismissed from military service due to the Don't ask, don't tell government policy that only allowed gays, lesbians, and bisexuals to serve in the military if they kept their sexual orientation secret and the military did not learn of their sexual orientation. This policy has since be repealed and gays, lesbians, and bisexuals can now serve openly in the United States Armed Forces.
External links
Edit