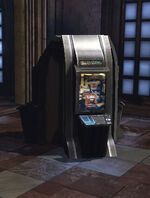 Promoted and recorded by Booster Gold, Booster Gold Exploration Adventure Kiosks are located in player Safe Houses and throughout both Metropolis and Gotham City. They provide the player with Exploration Missions where they must follow the markers on their mini-map to other Exploration Adventure Kiosks resulting in a pseudo guided tour of notable areas in each city.
Mission List
Edit
List of Kiosks
Edit
Ad blocker interference detected!
Wikia is a free-to-use site that makes money from advertising. We have a modified experience for viewers using ad blockers

Wikia is not accessible if you've made further modifications. Remove the custom ad blocker rule(s) and the page will load as expected.