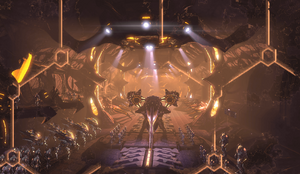 Brainiac's Forces comprise of robotic engines crafted into the mold of humanoids. Using nanite technology and carring within each drone the total of Brainiac's programming, Brainiac's Forces consist of various advanced mechanical drones and hunter-killer machines of varying shapes and sizes.
These forces are designed specifically for the purpose of acquiring, analysing, dominating and then destroying planetoid races of varying appearances and structure, and as such each mechanical apparition is designed for a specific function and to perform that said function at the most optimum and efficient way possible.
Due to their status as mechanical drones, Brainiac is capable of producing a virtually endless army of forces as required to meet his objectives.
Involvement
Edit
Appearance
Edit
Iconics/Bosses

Mobs


Affiliated Allies



Equipment
Edit
Some of Brainiac's Forces are physically based on the template of Coluan physiology, Brainiac's native race.
External links
Edit
Ad blocker interference detected!
Wikia is a free-to-use site that makes money from advertising. We have a modified experience for viewers using ad blockers

Wikia is not accessible if you've made further modifications. Remove the custom ad blocker rule(s) and the page will load as expected.