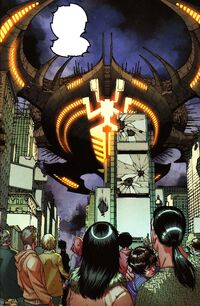 The Brainiac Incursion Zones are areas in Gotham City and Metropolis where Brainiac's Forces have landed and formed a beach-head in preparation for Brainiac's takeover of Earth.
In-Game History
Edit
300px
Inhabitants
Edit
Metropolis University Campus Incursion Zone
MPD 3rd Precinct Incursion Zone
Suicide Slums Incursion Zone
MPD 5th Precinct Incursion Zone
Burnley Incursion Zone
GCPD 9th Precinct Incursion Zone
Ad blocker interference detected!
Wikia is a free-to-use site that makes money from advertising. We have a modified experience for viewers using ad blockers

Wikia is not accessible if you've made further modifications. Remove the custom ad blocker rule(s) and the page will load as expected.