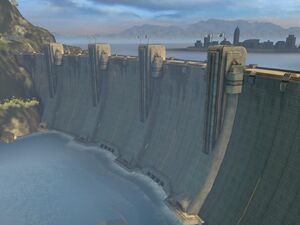 The Central Auxilary Operations Dams are arch-gravity dams that connect to the northern and southern areas of the Historic District of Metropolis.
Retaining the ocean surrounding Metropolis' city-proper, the dam connects with the Metropolis Hydro Plant and Water Treatment Facility.
In-Game History
Edit
Learning that Brainiac is intending to invade the magical realms, Doctor Fate takes a new hero to enter Limbo via the C.A.O. Dam in Metropolis to push Brainiac's forces out of the realm.
Inhabitants
Edit
Ad blocker interference detected!
Wikia is a free-to-use site that makes money from advertising. We have a modified experience for viewers using ad blockers

Wikia is not accessible if you've made further modifications. Remove the custom ad blocker rule(s) and the page will load as expected.