Cape Carmine is a cape on the southern peninsula of the East End district of Gotham City.
Named for the Gotham Mafiosi Carmine Falcone, the cape has long been under the occupation of the Gotham City Organized Crime Family.
Involvement
Edit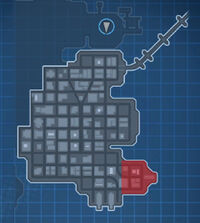 Locations
Edit
Inhabitants
Edit
Cape Carmine is named after comicbook artist Carmine Infantino; who was a major force in the Silver Age of Comic Books and helped design the suit of Barry Allen and co-created Barbara Gordon alongside Gardner Fox, amongst other silver age characters.
Ad blocker interference detected!
Wikia is a free-to-use site that makes money from advertising. We have a modified experience for viewers using ad blockers

Wikia is not accessible if you've made further modifications. Remove the custom ad blocker rule(s) and the page will load as expected.