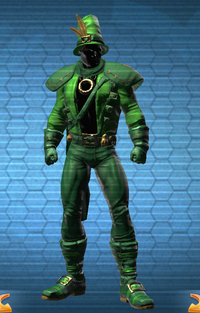 Celtic is an Armor Style Set available during the St. Patrick's Day Seasonal Event.
It is themed after the Celts; a group of tribal societies that existed during the Iron Age and Medieval Age of Europe whose culture grew to form the cultures of countries like Ireland and Scotland.
Color-Schemes
Edit
The Celtic's overall color-scheme consists of three colors that can be chosen by the Player in the Style Window. Specific sections of the style's pieces can also be allocated a more specific colour by the Player.
Emblems appear on the shoulder pads of this style. 

Collecting the full style set unlocks the feat Fancy Lad (10 points).
The style was first introduced in the St Patrick's Day event in 2011.
Ad blocker interference detected!
Wikia is a free-to-use site that makes money from advertising. We have a modified experience for viewers using ad blockers

Wikia is not accessible if you've made further modifications. Remove the custom ad blocker rule(s) and the page will load as expected.