Destroy the monitoring station LexCorp uses to track their Meta patients and take out LexCorp forces.
Objectives
Edit
"LexCorp's implated tracing devices in all of their Metahuman experiment subjects. The monitoring station is on the Hospital roof. Get up there and overload the station so these people can escape!" — Superman
Deactivate LexCorp Monitoring Station
"Without that monitoring station, Lex will have to track down those patients one by one. Show his troops they have more to worry about right now. Like facing us." — Superman
Destroy LexCorp Assault Vehicles (0/5)
Defeat LexCorp Gladiators (0/5)
"This is Lex Luthor. You just disrupted research that would have helped countless human beings. You've clearly chosen to follow that alien, Superman, rather than advance humanity. Don't expect mercy. Luthor out." — Lex Luthor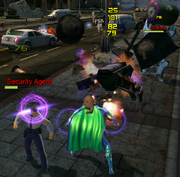 Selectable Reward
Edit
Ad blocker interference detected!
Wikia is a free-to-use site that makes money from advertising. We have a modified experience for viewers using ad blockers

Wikia is not accessible if you've made further modifications. Remove the custom ad blocker rule(s) and the page will load as expected.