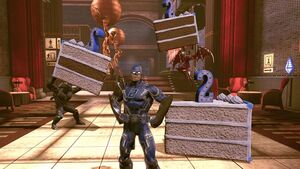 DCUO: Year Two was a level 0 mission automatically appearing in the journal on 11 January, 2013 for all player characters created before or on the actual date.
It's DC Universe Online's two year anniversary! Thanks for sharing this milestone with us. Please complete this quest to receive your gift!
Objectives
Edit
Thank you for playing DC Universe Online: please enjoy this two year anniversary gift from SOE!
It was not necessary to log on 11 January, 2013 to receive the mission, just the character had to be created previously.
Ad blocker interference detected!
Wikia is a free-to-use site that makes money from advertising. We have a modified experience for viewers using ad blockers

Wikia is not accessible if you've made further modifications. Remove the custom ad blocker rule(s) and the page will load as expected.