The Dark Specter Batsuit is an Iconic Battle Suit Style set for Tech-based Heroes. Bestowed upon his "Agents of the Bat", this batsuit allows the wearer to carry and enforce the influence that Batman's image has over the criminal underworld.
Consisting of eight pieces, the set is themed after Batman and is a specialized Tier 2 PvE (Player versus Environment) set only available from Batgirl in the Tech Wing of the JLA Watchtower.
Color-Schemes
Edit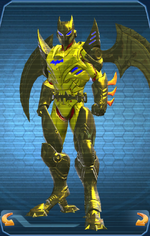 The Dark Specter Batsuit's overall color-scheme consists of three colors that can be chosen by the Player in the Style Window. Specific sections of the style's pieces can also be allocated a more specific colour by the Player.
Emblems do not appear while wearing this style.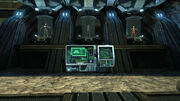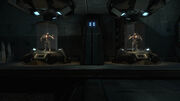 The back piece of the Dark Specter Batsuit emits flames when the player is in flight.
The costumes of Batgirl, Robin and the Dark Specter Batsuit can be seen on display in the Batcave in Legends PvP.
Two Dark Specter Batsuits can be seen on display inside a "Undisclosed Location".
All previews of the suit, excluding the display hologram kiosk next to the vendor, do not show the Shoulder and Waist pieces of the suit.
Prior to Update 18, Marks of Distinction were used to purchase Tier 2 PvE Iconic Battle Suits; earned by completing Tier 2 Duos, by defeating bosses in Tier 2 Alerts, completing the Daily Tier 1 Alert, and completing South Gotham oriented quests only available in The Battle for Earth DLC.
The suit bears a striking resemblance Batman's Bat-Mech in the TV series Batman: The Brave and the Bold