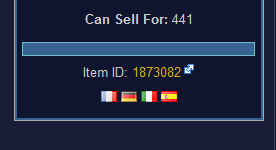 The item infoboxes on this wiki may contain links to the Daybreak Games Census Data (formerly SOE Census Data). This data is in the so called JSON format.
Most browsers will display this kind of data as one long string of characters unless you install a plugin to format it more properly.
Plugins or workarounds are available for the most common browsers.
Ad blocker interference detected!
Wikia is a free-to-use site that makes money from advertising. We have a modified experience for viewers using ad blockers

Wikia is not accessible if you've made further modifications. Remove the custom ad blocker rule(s) and the page will load as expected.