Dexter Myles Audio Tour
The Dexter Myles Audio Tour is a 9-part briefing introduced as part of the Lightning Strikes DLC.  Each part has Dexter Myles, curator of the Flash Museum, talking about one of the villains who the Flash frequently fights.
1/9; Weather Wizard
Location: ??
Map: ??
2/9; Professor Zoom
Location: ??
Map:
3/9; Captain Cold
Location: 2nd building East of Midtown MPD Station lots of windows & gold/yellow top. At the top, West side off building inbetween air contiditioner and antena u will find its blue token.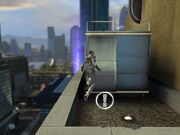 <u>Map: Metropolis </u>
4/9; Abra Kadabra
Location: Chinatown. One block North of Mannheim's Chinese Theater. On top of Hotel with blue and red awnings. Between air vent and water tower.
Map: Metropolis
5/9; Heat Wave
Location: Diamond District. Three buildings West of bottled Courthouse. Square building with view of water. At Northwest corner, under arch.
Map: Gotham
6/9; The Top
Location: Science Spire. North side Balcony near top with blue windows.
Map: Metropolis
7/9; Pied Piper
Location : Burnley. One building west of the Greenhouse in the Giordano Botanical Gardens. On top of building next to southwest tower.
Map: Gotham
8/9; Trickster
Location: Otisburg. Monarch Playing Card Company. On top of building support at the northwest corner of the building.
Map: Gotham

9/9; Captain Boomerang
Location: ??
Map: ??
Ad blocker interference detected!
Wikia is a free-to-use site that makes money from advertising. We have a modified experience for viewers using ad blockers

Wikia is not accessible if you've made further modifications. Remove the custom ad blocker rule(s) and the page will load as expected.