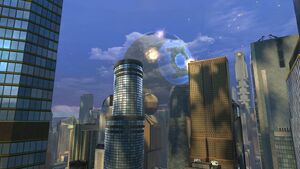 The Downtown Metropolis Battlezone is a part of the Metropolis Battlezone in the Downtown district of Metropolis transformed into a Mist-filled battlezone as the forces of the Green Lantern Corps, Blue Lantern Corps, Sinestro Corps and Red Lantern Corps converge upon the city in attempts to investigate, obtain or simply take advantage of the Emotion-laden mists that are floating across the district.
Locations
Edit
The Lantern Corpsmen have formed a blockade around the Downtown District, restricting heroes and villains to only operate within that district.
Ad blocker interference detected!
Wikia is a free-to-use site that makes money from advertising. We have a modified experience for viewers using ad blockers

Wikia is not accessible if you've made further modifications. Remove the custom ad blocker rule(s) and the page will load as expected.