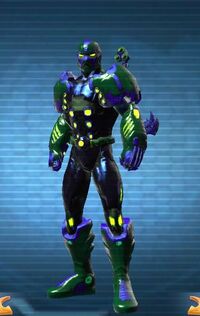 Dresden 7 is a Costume Style Set, the pieces of which can only be obtained as rewards from Collections and Briefings.
Dresden 7 (styles)

Pieces
Obtainment
Color-Schemes
Edit
The Dresden 7's overall color-scheme consists of three colors that can be chosen by the Player in the Style Window. Specific sections of the style's pieces can also be allocated a more specific colour by the Player.
Emblems do not appear on this style.

Initially, the Dresden 7 set was to be titled "Dresden". It was possibly changed to avoid any relation with the German town of the same name.