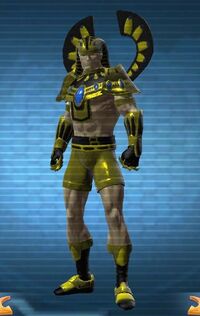 Egyptian is an Armor Style Set.
Egyptian (Controller)

Pieces
Obtainment
Egyptian (Healer)

Pieces
Obtainment
Egyptian (Tank)

Pieces
Obtainment
Following the discovery of the White Martians' experiments on Earth, the Green Martians shut their operations down, however, some of their experiment subjects escaped into the world. Concerned with their effect on the planet's wildlife, the Martians established a colony on Earth to keep an eye on them. This colony would later become known as the Great Sphinx and Pyramids of Giza. The Martians themselves became what are now regarded as the Egyptian gods.