Emotes are actions made by the player by typing a certain command (F2 -> Emotes for PC). The player can access the emotes through chat or through the canned chat/emotes menu.
The player's personality affects certain emotes, e.g. the dance moves vary for different personalities.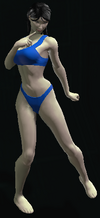 List of Emotes
Edit
GreetingsEdit
Thumbs Up
Excited
Cheer
Chestpuff
Clap
Flex
Pose
Laugh
Watch
Terminal *
Picture
Smokebomb
Walkie talkie *
Cell *
Choke *
Headache *
Observe *
Read *
Search *
Wary *
Cry *
Rest *
Sleep *
* Continues until interrupted/stopped
Ad blocker interference detected!
Wikia is a free-to-use site that makes money from advertising. We have a modified experience for viewers using ad blockers

Wikia is not accessible if you've made further modifications. Remove the custom ad blocker rule(s) and the page will load as expected.