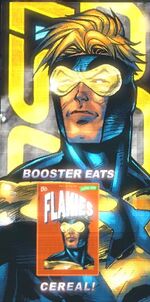 Flakies is a cereal brand franchise endorsed by Booster Gold.
Advertised as "The power-packed cereal!", it is rumoured that Booster actually doesn't like the taste of the cereal.
In-game Involvment
Edit
Numerous Flakies billboards appear throughout Metropolis.
Flakies first appeared in Booster Gold #2 (March, 1986).
Ad blocker interference detected!
Wikia is a free-to-use site that makes money from advertising. We have a modified experience for viewers using ad blockers

Wikia is not accessible if you've made further modifications. Remove the custom ad blocker rule(s) and the page will load as expected.