Gadgeteer is an Armor Style Set, the pieces of which can only be obtained as rewards from Collections and Briefings.
Gadgeteer Headpiece- Can only obtain from the Oolong Island Briefings(Alert)
Gadgeteer Shoulders- Rare loot from the Vault
Gadgeteer Chestpiece- Collections: Alma Alumni
Gadgeteer Back- Survival of the Fittest: Episode II (Briefings)
Gadgeteer Gaunlet- Collections: Chemo's Legacy
Gadgeteer Belt- Collections: Technology is the Future
Gadgeteer Pants-  Collections: Social Engineering
Gadgeteer Boots- LexCorp (Briefings)
Gadgeteer

Pieces
Awarded
Stats

Custom Style

                                   -
                           -
Collecting the full style set unlocks the feat Go Go Gadgeteer (25 points).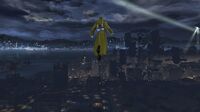 The back piece of the Gadgeteer suit emits flames when the player is in flight.
Ad blocker interference detected!
Wikia is a free-to-use site that makes money from advertising. We have a modified experience for viewers using ad blockers

Wikia is not accessible if you've made further modifications. Remove the custom ad blocker rule(s) and the page will load as expected.