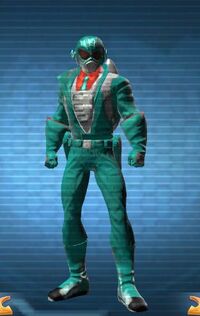 Gadgeteer is an Armor Style Set, the pieces of which can only be obtained as rewards from Collections and Briefings.
Gadgeteer Headpiece- Can only obtain from the Oolong Island Briefings(Alert)
Gadgeteer Shoulders- Rare loot from the Vault
Gadgeteer Chestpiece- MetaCollection Alma Alumni (Gotham/ Metropolis)
Gadgeteer Back- Survival of the Fittest: Episode 2 Briefing (Metropolis)
Gadgeteer Gaunlet- Chemo's Legacy Collection(Bludhaven)
Gadgeteer Belt- Technology is the Future Collection
Gadgeteer Pants-  Social Engeneering Colection (Metropolis/Gotham)
Gadgeteer Boots- LexCorp Briefing (Metropolis)
Gadgeteer

Pieces
Awarded
Stats

Custom Style

                                   -
                           -
Collecting the full style set unlocks the feat Go Go Gadgeteer (25 points).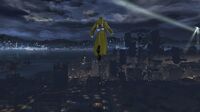 The back piece of the Gadgeteer suit emits flames when the player is in flight.