Gorgon Slayer is an Costume Style Set and Iconic Battle Suit available for heroes and villains.
Consisting of eight pieces, the set is an advanced PvE (Player versus Environment) gear set inspired by the vestments of ...
This set is attuned gear, has Item Levels 145 to 164 and is obtained as loot drop from the tier 8 instances such as Olympus (elite) and God of Monsters (elite) alert. A minimum PvE Combat Rating of 166 or above and the Amazon Fury Part III episode are pre-requisite of obtaining this gear.
Gorgon Slayer (Damage)

Pieces
Obtainment
Gorgon Slayer (Controller)

Pieces
Obtainment
Gorgon Slayer (Healer)

Pieces
Obtainment
Gorgon Slayer (Tank)

Pieces
Obtainment
Gorgon Slayer (Styles)

Pieces
Obtainment
Color-Schemes
Edit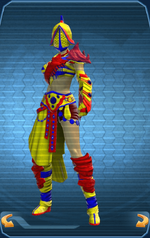 The Gorgon Slayer's overall color-scheme consists of three colors that can be chosen by the Player in the Style Window. Specific sections of the style's pieces can also be allocated a more specific colour by the Player.
Emblems do not appear on this style.

Ad blocker interference detected!
Wikia is a free-to-use site that makes money from advertising. We have a modified experience for viewers using ad blockers

Wikia is not accessible if you've made further modifications. Remove the custom ad blocker rule(s) and the page will load as expected.