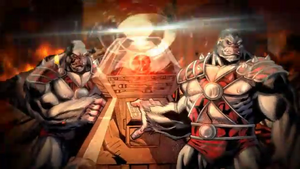 Employed by Gorilla Grodd either through fear, favour or mind control, Grodd's Gorilla Army is an amassing of Gorilla soldiers usually from Gorilla City who are loyal to Grodd's purposes of world domination for Gorilla-kind and the subjectivication and domination of the human race.
The army is most noted for possessing alien technology, created or asconded by Grodd, that can turn humans into mindless gorillas.

Involvement
Edit
Both heroes and villains must work together to quell the violence at Stryker's Island, instigated by Grodd.
| | | | |
| --- | --- | --- | --- |
| Iconic/Bosses | Mobs | | Vendors/Taskmasters |
Equipment
Edit