Greed is a level 17 mission started automatically once the player talks to Cyborg for Five Deadly Sins.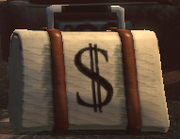 Defeat Greed Demons and recover the money they've stolen.
Objectives
Edit
"You will need all your courage for this fight. Cyborg, and the other Titans, have already faced Trigon once. Now Trigon's power rises with each citizen corrupted by his Sin Demons. We must save these people and weaken Trigon's power!" — Wonder Woman
Go to Midtown Metropolis
Defeat Greed Demons (0/20) (812 xp)
Retrieve Stolen Cash from Possessed Citizens affected by Greed Demons (0/10) (818 xp)
Recover Stolen Money Bags (0/10) (812 xp)
Upon completion, Gluttony is started.
Cash: $80
Selectable Weapon
Selectable Reward
Edit
Ad blocker interference detected!
Wikia is a free-to-use site that makes money from advertising. We have a modified experience for viewers using ad blockers

Wikia is not accessible if you've made further modifications. Remove the custom ad blocker rule(s) and the page will load as expected.