For the enclosed hall in the Main Wing, see Hall of Justice.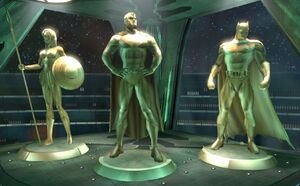 The Hall of Heroes is a location in the Watchtower. Found between the Magic and Meta Wings, it possesses three colossal monuments to the heroic Trinity (Batman, Superman, Wonder Woman) who together represent the different facades of heroism.
Locations and Inhabitants
Edit
Resources
Edit
In their initial release following Update 14, the game programers mixed up the Virtuous Knight and Checkmate Operative armor sets; resulting in the armor set displays being placed in the wrong locations with the wrong names. The error has since been fixed.
Ad blocker interference detected!
Wikia is a free-to-use site that makes money from advertising. We have a modified experience for viewers using ad blockers

Wikia is not accessible if you've made further modifications. Remove the custom ad blocker rule(s) and the page will load as expected.