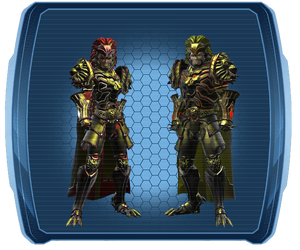 The Heart of the Lion is an Iconic Battle Suit Style set for any role.
Consisting of eight pieces, the set is themed after the symbol of the Lion as a specialized Tier 4 PvE (Player versus Environment) set only available from the Amazon in the Magic Wing of the JLA Watchtower for heroes and the Bestiamorph in the Magic Wing of the Hall of Doom for villains.
To obtain this set, players must be at Level 30, have a PvE combat rating1 of 70 or above and have the The Battle for Earth episode.
The price for the whole set for each role is: ???
All pieces on sale have a item level of 78.
Color-Schemes
Edit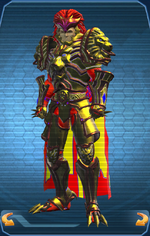 The Heart of the Lion's overall color-scheme consists of three colors that can be chosen by the Player in the Style Window. Specific sections of the style's pieces can also be allocated a more specific colour by the Player.
Emblems do not appear while wearing this style.

Collecting the full style set unlocks the feat Lion's Share (50 points).
Ad blocker interference detected!
Wikia is a free-to-use site that makes money from advertising. We have a modified experience for viewers using ad blockers

Wikia is not accessible if you've made further modifications. Remove the custom ad blocker rule(s) and the page will load as expected.