Home Turf
Talk

0
9,724pages on
this wiki

"Every great hero needs a place to hang their cape -- figuratively speaking, of course -- you don't have to wear a cape. Superman has his Fortress, Batman has the Cave, Wonder Woman has her retreat. I have my...well, that's on a need-to-know basis. And now, you can have your own base. I've dropped some items into your inventory. Go ahead and use the Dive Hideout theme, then I'll tell you what to do next." — Oracle
"It occurred to me that you're lacking one of the best parts about being a villain. The evil hideout. I mean, what kind of villain are you if you don't have a place to rub your hands maniacally and make with the evil plotting? So, let's get you set up, buddy. I've dropped some items into your inventory. Go ahead and use the Dive Hideout theme, then I'll tell you what to do next." — Calculator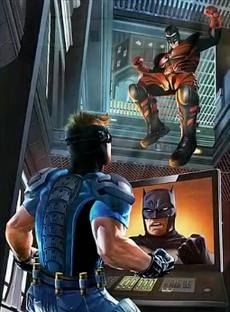 ---
| | |
| --- | --- |
| Release | January 29th, 2013 |
Home Turf is an Episode pack for DC Universe Online released January 29th, 2013. Fight through encounters at Ace Chemicals, Arkham Asylum, Steelworks and Stryker's Island. Multiple mission objectives are randomly generated for each encounter.
Home Turf is the 6th Episode pack. Access to the episode content is available to members with an active subscription. Non-members may purchase access in the Marketplace for $4.99.
Characters
Edit
Locations
Edit
Equipment
Edit
Investigations
Edit
Briefings
Edit
Collections
Edit
Prior to March 31st, 2015, Home Turf access included the Lair System, the Deco theme and the Gothic theme. Previous owners of the DLC will retain access.
Original Release Notes
Edit
Player Bases
Legendary members and owners of Home Turf receive two Lair Themes: Gothic and Deco, and a Theme for a smaller, limited Dive Hideout available in the Dispenser.
Look for Home is Where Your Base Is in your Mission Journal. Complete the mission to receive one Deed which can be used for placing a base at an in-game address of your choice.
The mission is granted at level 12 or higher.
Base Decoration Mode & Customization
Players are able to customize their Base in many different ways using the Base Decoration Mode. Accessed via the Control Panel located near the entrance of your base, Decoration Mode is the place for arranging items throughout the Base, customizing the colors of certain areas of the Base, selecting the player's Emblem to be displayed on a wall plaque, and renaming the Base. Players can customize their Base(s) by adding items found throughout DC Universe Online.
Base Mainframe and Dispenser
Each Base comes equipped with a Mainframe and a Dispenser that can be accessed inside your base.
Players can unlock and gain access to Upgrades and temporary Boosts by activating the Mainframe's Generator power cells.
Players can also set Permissions through their Mainframe to allow friends and League mates to enter and help decorate their Base.
Lair Battle PvP
Take on your opponent in your Lair or your opponent's Lair.
Once you have created your own Lair, go to your On Duty Menu, select Lair Battles under the Arenas: PvP tab and select your Lair to Queue.
Level Requirement: 30
Tactical Mods are available through your Base's Dispenser.
Tactical Mods can be socketed to your gear and weapons to add a wide range of combat benefits.
Level Requirement: 30
Upgrades and Boosts
Players can access Upgrades and temporary Boosts from their Mainframe.
These Upgrades and Boosts can be added to your Utility Belt and ability bar to call in Orbital Strikes, Supply Drops, Sidekicks or Back-Up (Heroes) and Accomplices or Henchmen (Villains).
New Daily Missions
New Bounties for Heroes and Villains
Bounty posters can be found at the Arkham Water Processing Facility Dock, Steelworks, the Processing Facility on Stryker's Island, and Ace Chemicals in Gotham.
Home Turf bounties are Raid level so bring some friends!
Level Requirement: 30 Combat Rating Requirement: 70
New Collections and Feats
New Feats, Collections, Investigations, and Briefs added!
New Weapon Styles and Gear Sets
Four new gear styles and two new weapon sets inspired by Home Turf added!