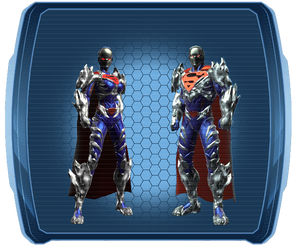 The House of El Warsuit is an Iconic Battle Suit Style set for Meta-based Heroes. Created from crystals in the Fortress of Solitude the suit is based on armour designs worn by the royal guards of the House of El on Krypton.
Consisting of eight pieces, the set is themed after Superman and is a specialized Tier 2 PvE (Player versus Environment) set only available from Power Girl in the Meta Wing of the JLA Watchtower.
Color-Schemes
Edit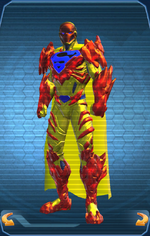 The House of El Warsuit's overall color-scheme consists of three colors that can be chosen by the Player in the Style Window. Specific sections of the style's pieces can also be allocated a more specific colour by the Player.
Emblems do not appear while wearing this style.

The House of El Warsuit style has a random "shine" animation when fully equipped.
Prior to Update 18, Marks of Distinction were used to purchase Tier 2 PvE Iconic Battle Suits; earned by completing Tier 2 Duos, by defeating bosses in Tier 2 Alerts, completing the Daily Tier 1 Alert, and completing South Gotham oriented quests only available in The Battle for Earth DLC.
Ad blocker interference detected!
Wikia is a free-to-use site that makes money from advertising. We have a modified experience for viewers using ad blockers

Wikia is not accessible if you've made further modifications. Remove the custom ad blocker rule(s) and the page will load as expected.