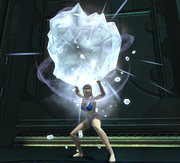 Ice Boulder is an Ice power that becomes available at Level 28.
Description
Edit
Summon a huge chunk of ice to hurl at your enemies, damaging and knocking them down.

Power Interactions : Inflicts Frostbite on enemies, making them vulnerable to freezing effects.
Cooldown: 6s
Power Cost: 300
Ice Boulder can be used to set up Arctic Gust, Bitter Winds, Cold Snap, Frost Blast, Frost Snipe, Ice Boulder Strike, Snow Devil and Snow Ball for additional damage.
The ice boulder generated counts as an NPC. When the player throws at a target, the player receives the combat messages "[Player name]'s Ice Boulder destroyed Ice Boulder" and "[Player name] knocked out Ice Boulder".
Ad blocker interference detected!
Wikia is a free-to-use site that makes money from advertising. We have a modified experience for viewers using ad blockers

Wikia is not accessible if you've made further modifications. Remove the custom ad blocker rule(s) and the page will load as expected.