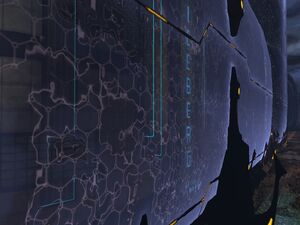 The Iceberg Lounge is a trendy nightclub owned by Oswald Cobblepot, aka the Penguin, in the Diamond District of Gotham City. The location serves as a Tier 8 Solo Challenge as part of Episode 25 sold together with the Operation A Rip in Time.
Access to the Challenge requires a Combat Rating of 158. The Challenge rewards 1 Mark of Victory and has a suggested Combat Rating of 166.
When the Penguin chose to change his focus from criminal to criminal broker, he established the Iceberg Lounge as his base of operations. Ostensibly a posh nightclub, the Iceberg Lounge catered to Gotham City's hip and wealthy social set. Oswald Chesterfield Cobblepot served as host and booked numerous singers and musicians to perform as well as employing beauties to run the club for him in his absence. Behind the scenes, though, the Penguin still ran his criminal enterprises, laundering stolen cash and trading on information, behind the scenes of course.
Involvement
Edit
The Iceberg Lounge building has been bottled like the majority of the buildings in the Diamond District.
After rebuilding the lounge in a new location, the Penguin invited the player to the new Iceberg Lounge Grand Opening! Only the richest and most up-and-coming people are invited. Kick back, relax, dance, buy refreshments and try to stay out of trouble in the new Solo: Iceberg Lounge!
The Iceberg Lounge is one of the random locations for the Starro: Spreading Spores duo in the Deluge event. Heroes and villains encounter Controlled Penguin.
Inhabitants
Edit
Episode 25
The enemy combat rating is 172.
Deluge
The enemy combat rating is 235 for the episode and 220 for the event.
Briefings and Investigations
Edit
Associated Feats
Edit
After the city was reintegrated into America following the year Gotham became a No Man's Land, the Penguin had the lounge rebuilt, only to discover that the building in which the lounge was within was now owned by Bruce Wayne.
External Links
Edit