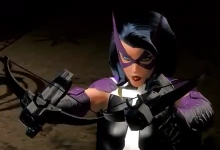 Iconic Anomaly: The Hunt is a Tier 5 simulation Challenge featuring the Huntress.
Access to the Challenge requires the Origin Crisis Episode and a Combat Rating of 80.
The Challenge rewards 1 Mark of Victory for players with a Combat Rating between 80 and 104. Players with a Combat Rating higher than 104 only receive Loot items from the Challenge.
In-Game History
Edit
Future Batman or Future Lex Luthor allows the player to experience a simulation of one of Huntress' first missions. As Huntress, you must infiltrate the Cassamento Mob's warehouse to seek the answers about why her family was murdered.
Challenge Description
Edit
Assist in researching a critical moment in the Huntress' history.
Inhabitants
Edit
Santo Cassamento is the default end boss.
Hush, Killer Croc , Bane , and Scarecrow are the possible alternative bosses fought if Cassamento is spared, only one of whom can be fought.
The alternate boss is indicated by an object found in the first room. The indicative object is located on the south face of the west pillar: a cage for Killer Croc, a bag of money for Hush, a venom canister for Bane, and a fear gas barrel for Scarecrow. 
Ad blocker interference detected!
Wikia is a free-to-use site that makes money from advertising. We have a modified experience for viewers using ad blockers

Wikia is not accessible if you've made further modifications. Remove the custom ad blocker rule(s) and the page will load as expected.