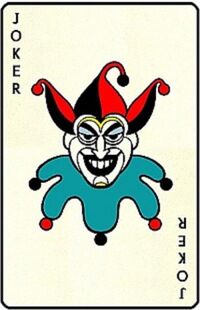 The Joker's Streetgang, sometimes known as the Jokerz, sometimes known as the Joy Boys, is a gang of criminal thugs working for the Joker in Gotham City.
In spite of his unstable manner, the Joker has always managed to find like-minded anarchists to enact his various schemes. Although not known for their intelligence, the Joker's streetgang thugs are known for their nihilistic outlook and borderline insanity, dressing up as clowns and circus people to associate themselves with their boss.
Involvement
Edit
Intent on inciting a city-wide gang war, the Joker sends various members of his streetgang to heckle both the members of the Gotham City Organized Crime Family and the Gotham City Police Department while also inciting their own chaos through the use of new robots created for him by T.O. Morrow.
| | | | |
| --- | --- | --- | --- |
| Iconics/Bosses | Mobs | | Vendors/Taskmasters |
Equipment
Edit
Harley Quinn first appeared in Batman: The Animated Series, in the episode "Joker"s Favor", as a lieutenant in the Joker's gang.
Ad blocker interference detected!
Wikia is a free-to-use site that makes money from advertising. We have a modified experience for viewers using ad blockers

Wikia is not accessible if you've made further modifications. Remove the custom ad blocker rule(s) and the page will load as expected.