This article is about the equipment. For the opponent fought in Fortress of Solitude: Sunstone Matrix, see Kryptonian Medic.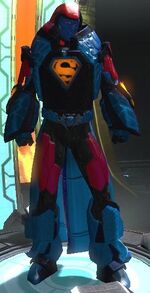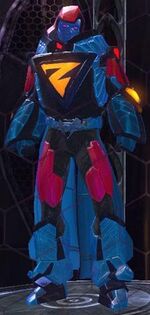 The Kryptonian Medico is an Iconic Battle Suit Style set for Healers. Created and infused with Sunstone Crystal technology, the set for heroes possesses the family crest of El while the set for villains possesses the family crest of Zod.
Consisting of eight pieces, the specialized Tier 3 PvE (Player versus Environment) set is available from Supergirl and Non in the Meta Wings of the JLA Watchtower and the Hall of Doom respectively.
The requirement to be able to purchase the set is being Level 30 and having a Combat Rating of 53 or above.
The price for the whole set is : 3891 Cash, 10,000 Marks of Triumph
All pieces on sale have a Item Level of 70.
Kryptonian Medico

Pieces
Price
Stats (Total)

Kryptonian Medico Hood (Head)
Crystalline Shoulderplates (Shoulders)
Kandorian Diagnostic Mantle (Back)
Virtue of El (Chest)
Council Advisor Gloves (Hands)
Reinforced Sunstone Waistguard (Belt)
Faceted Sunstone Legguards (Legs)
Rao-Walkers (Feet)
Ad blocker interference detected!
Wikia is a free-to-use site that makes money from advertising. We have a modified experience for viewers using ad blockers

Wikia is not accessible if you've made further modifications. Remove the custom ad blocker rule(s) and the page will load as expected.