Laugh Riot is a level 13 mission started when the player talks to Commissioner Gordon for Gordon Wants a Word.
Take on the Joker Clowns rioting at the abandoned Amusement Mile theme park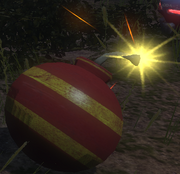 Objectives
Edit
"Ha ha ha! What's this? Has an uninvited guest stumbled into my toxin testing ground? So sorry I can't be there to welcome you in person. Enjoy the party -- if it doesn't kill you first!" — Joker
Get to Amusement Mile
Throw Bombs in River to Defuse Them (0/5) (617 xp) (10 xp for each bomb)
Arrest Joker's Henchmen (0/10) (617 xp)
Collect Joker Gas Inhalers from Clowns (0/20) (617 xp)
"We need to get the formula for that Joker toxin. If I know Joker, he's left a trail. See what you can find." — Batman
Upon completion, Beware of Jokers Bearing Gifts is automatically started.
The bombs could be used as an explosive stun weapon against Joker's minions. Note that they also stun players and officers.
A Jokandroid may show up. When defeated, it would explode dealing 300 damage to nearby players.
Ad blocker interference detected!
Wikia is a free-to-use site that makes money from advertising. We have a modified experience for viewers using ad blockers

Wikia is not accessible if you've made further modifications. Remove the custom ad blocker rule(s) and the page will load as expected.