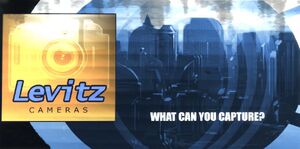 Levitz Cameras is a large photographic retail and photofinishing specialty store.
Involvement
Edit
Appearing throughout Metropolis and Gotham City are billboards advertising the company.
Equipment
Edit
Levitz Cameras is presumably the DC comics rendition of the real-world U.S. store, Ritz Cameras. It is also a likely reference to former DC Comics President Paul Levitz
In the Beta, Levitz Cameras was known as Donner Cameras; named after Richard Donner, famous for having directed the first full-length Superman feature film in 1978.
In order to hide his identity, Superman vibrates a little at super speed to mess with his facial details in photos.
See also
Edit
Ad blocker interference detected!
Wikia is a free-to-use site that makes money from advertising. We have a modified experience for viewers using ad blockers

Wikia is not accessible if you've made further modifications. Remove the custom ad blocker rule(s) and the page will load as expected.