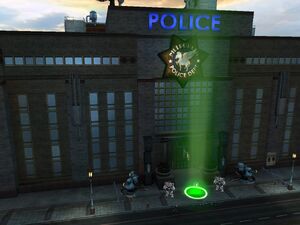 The MPD 5th Precinct, also known as the Chinatown Police Stations, is a Hero Safe House located in the Chinatown district of Metropolis. It can be entered through either the JLA Watchtower's Magic Wing teleporter, or the front door in the Chinatown district, Metropolis.
Heroes who choose Wonder Woman as their mentor begin the game here.
Locations and Inhabitants
Edit
Main Area & Side Halls


Vendors Area

Mail Room




Containment Facility
Resources
Edit
Ad blocker interference detected!
Wikia is a free-to-use site that makes money from advertising. We have a modified experience for viewers using ad blockers

Wikia is not accessible if you've made further modifications. Remove the custom ad blocker rule(s) and the page will load as expected.