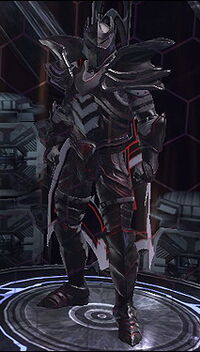 Malevolent Knight is a tier 3 PvP Armor Style Set for villains.  The entire set cost a total of 4364 Cash and 745 Marks of Tactics.
Malevolent Knight (Styles)

Pieces
Obtainment
Malevolent Knight (Healer)

Pieces
Drops
Stats
Malevolent Knight (Tank)

Pieces
Drops
Stats
Malevolent Knight (Controller)

Pieces
Drops
Stats
Malevolent Knight (Damage)

Pieces
Drops
Stats
Color-Schemes
Edit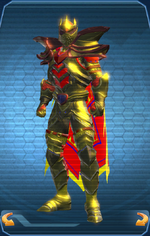 The Malevolent Knight's overall color-scheme consists of three colors that can be chosen by the Player in the Style Window. Specific sections of the style's pieces can also be allocated a more specific colour by the Player.
Emblems do not appear on this style.

Since the armor was discontinued after game update 25 the styles are now available through The Vault to allow players to complete the accompanying style feats.

Ad blocker interference detected!
Wikia is a free-to-use site that makes money from advertising. We have a modified experience for viewers using ad blockers

Wikia is not accessible if you've made further modifications. Remove the custom ad blocker rule(s) and the page will load as expected.