Marketplace is an in-game platform for microtransactions. It uses Daybreak Cash (for PC users) or Marketplace Cash (for PSN users) as currency.
PC users will find access to it in the game menu, PlayStation users need to visit Skeets' Legendary Emporium in one of the safehouses.
Since game update 36 players with legendary access receive a 10% percent discount when buying items from the marketplaces.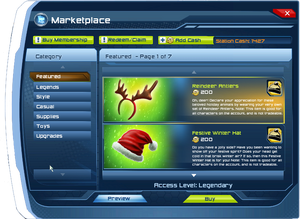 Marketplace Content
Edit
Main article: Downloadable Content
Episodes are automatically granted to players with legendary access.
Power Sets
Edit
Catalysts & Seals
Edit
Base Items
Edit
Main article: Legends PvP
Style Items
Edit
Weapon Styles
Edit
Temporary Items
Edit
Ad blocker interference detected!
Wikia is a free-to-use site that makes money from advertising. We have a modified experience for viewers using ad blockers

Wikia is not accessible if you've made further modifications. Remove the custom ad blocker rule(s) and the page will load as expected.