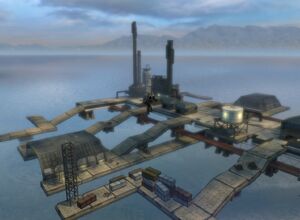 The Metropolis Shipyards is a naval yard located on the western shore of the Suicide Slums district of Metropolis.
In-Game History
Edit
The shipyards have been overrun by the army of the Kingdom of Atlantis, who are invading Metropolis on the command of their ruler, Aquaman, who is under the influence of Circe.
Inhabitants
Edit
Locations
Edit
Ad blocker interference detected!
Wikia is a free-to-use site that makes money from advertising. We have a modified experience for viewers using ad blockers

Wikia is not accessible if you've made further modifications. Remove the custom ad blocker rule(s) and the page will load as expected.