Movement Modes
Talk

0
6,802pages on
this wiki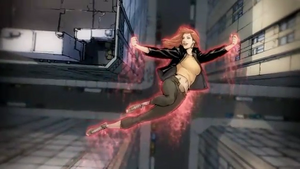 Chosen during Character Creation, a character's Movement Mode affects the character's speed, movement style, and maneuvers in combat. It also determines if the character is a flyer, speedster or jumps from building to building as an acrobat.
Super Speed
Edit
See Also: Super Speed
Speedsters travel through the streets at an incredible velocity. Those with Superspeed movement reach such tremendous acceleration that they can run up the sides of buildings, up walls or across ceilings. Traveling long city blocks to get to the action becomes a cinch with this movement mode.
In combat, speedsters become deadly whirlwinds using their quickness to move in and out of range with ease and special attacks to stun and disorient enemies.
Super Speed is the fastest movement mode
Acrobatics
Edit
See Also: Acrobatics
Acrobats are master aerialists and climbers who use their skills to vault across the rooftops with seemingly effortless grace. Acrobats are able to climb and cling to any surface, giving them a unique way to approach both movement and combat. Using a Grapple Line, Acrobats can quickly ascend tall buildings and traverse the gap between skyscrapers. And for movement across the massive cityscapes, Acrobats can even glide across the sky after leaping from vast heights.
In combat, the Acrobat's agility is unmatched, with special combat moves designed to draw enemies in close to deliver precision attacks.
See Also: Flight
Flyers soar over the skyscrapers, swooping down to engage their enemies with devastating attacks. There is no place out of reach for flyers, who are able to traverse any environment with ease. Those with Flight movement have their own special combat moves designed to stun enemies or knock them senseless. Using the environment around them, flyers can turn almost anything into aerial projectiles to defend the innocent or destroy the city.
Flight is the easiest form of movement