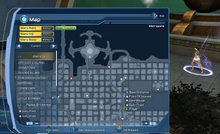 Nectar of the Gods is a level 10 hero mission started by talking to Amazon Mala.
Circe's Bestiamorph Army carries Ambrosia Elixir, which is a deadly poison to Amazons. The player must help by defeating bestiamorphs.
Objective
Edit
Confiscate Elixir from Bestiamorphs (0/15) (350 xp)
The Bestiamorphs do not always drop it. Keep killing. The Bestiamorph Berserkers are the easiest to defeat as long as you block when it is about to use its special attack.
Cash: $11
350 xp upon completion
Ad blocker interference detected!
Wikia is a free-to-use site that makes money from advertising. We have a modified experience for viewers using ad blockers

Wikia is not accessible if you've made further modifications. Remove the custom ad blocker rule(s) and the page will load as expected.