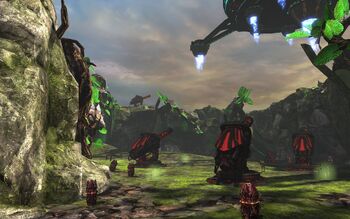 New Genesis is an idyllic planet filled with unspoiled forests, mountains, and rivers. Populated by the benevolent New Gods, New Genesis is ruled by the Highfather and opposed by its twin-planet, Apokolips. While the planet's surface is populated by a sentient race known as the Bugs, the planet's only known urban location is Celestial City; a floating city populated by the New Gods that is designed to not affect the planet's surface in a bid to preserve the environment's natural beauty.
Background
Edit
Following the end of the Third World that saw the destruction of the planet Urgund and the Old Gods, the rubble of Urgrund eventually formed into two planets. One was full of life and would be called New Genesis, while the other, a desolate wasteland, would be called Apokolips. As time passed, new life formed on both planets and they soon learned to access the same cosmic energies that their predecessors had. Soon after, they dubbed themselves "New Gods" in memory of the predecessors.


Moralistically divided, the people of New Genesis were led by Izaya the Inheriter while the New Gods of Apokolips were led by Yuga Khan, a position that was later taken by Darkseid. While not as militant as the Old Gods, the two sides fought from time to time due to the forces of Apokolips' wish to conquer and destroy all of creation.
Izaya gave some of his power to the New Goddess Atinai, allowing her to raise and shape a piece of New Genesis landscape and shape it into a massive flying city that she named the Celestial City, although it is referred to as "Supertown" by the young New Gods known as the Forever People.
Izaya and his wife, Avia, were one day ambushed by forces of Apokolips led by Steppenwolf and Uxas, and Avia was slain. In vengeance, Izaya led an attack on Apokolips and slew Steppenwolf. Revenge, however, brought no solace to Izaya, and he went on a sojourn into the wilderness of New Genesis, seeking enlightenment. It was at this time that Izaya first encountered the Source, and, taking the name Highfather, he returned to the gods of Supertown to bring them the Source's wisdom.
After years of war, the two worlds struck a peace accord, with Highfather engineering a pact with Darkseid, who had succeed the throne of Apokolips following Yuga Khan's imprisonment, by which Izaya's child was sent to the orphanages of Granny Goodness on Apokolips and Darkseid's son was sent to live on New Genesis as Highfather's adopted son.

Eventually, Highfather's son, Scott Free, escaped Apokolips with the Apokoliptian warrior, Big Barda, to Earth while Orion became a loyal follower and step-son to Highfather, with both sons battling Darkseid and his agents for years to come. Scott's escape, however, caused the pact to be broken and conflict between the two planets returned, with Darkseid eventually using the Micro-Mark (a weapon of minuscule size that is capable of destroying planets) to destroy New Genesis. However, the New Genesian New Gods survived by having Supertown relocate to another planet as New Genesis was rebuilt.
Upon learning of Darkseid's plans to destroy the Source Wall and control the Source itself, Highfather gathered other elder gods, including Zeus, Jove, Odin and Ares, to fight Darkseid. However, Ares rebelled against the other gods and killed Highfather. While Ares was later imprisoned within the new Source Wall, Highfather merged with the Source and Takion assumed the role as the new Highfather after Scott Free turned down the offer. Through Takion, Izaya was able to briefly return to resurrect Supertown to its former glory, giving the forces of New Genesis a new hope in the coming battles against Darkseid and his armies.
Involvement
Edit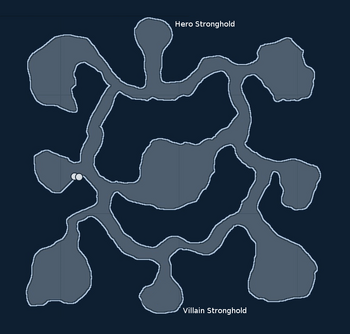 Iconics/Bosses
Mobs

Affiliated Groups
Equipment
Edit
External Links
Edit
Ad blocker interference detected!
Wikia is a free-to-use site that makes money from advertising. We have a modified experience for viewers using ad blockers

Wikia is not accessible if you've made further modifications. Remove the custom ad blocker rule(s) and the page will load as expected.